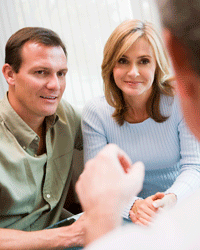 On the 14th of October 2019 the daily Swedish Newspaper "Sydsvenskan" reported about the ReproUnion study, which will examine perspectives on family planning and fertility among people in the Skåne region.
On average Swedes today get their first child around five years later than in the 70ies. The article addresses the increase of assisted fertility treatment as a result of postponed family planning.
In certain places of Skåne the average age of first-time parents is as high as 32,1. "The financial situation has always played a significant role. Today it can be tricky to enter the real estate market and start a carrier. We also have a longer list of demands when it comes to choosing a partner," says Lars Plantin, who runs the study together with the scientists Maja Bodin and Eva Elmerstig from the center of Sexology at Malmö University.
There has always been a focus on the female body but according to Maja Bodin infertility is just as common among men as women. "Fertility is often taken for granted and men are expected to be potent and fertile – two different things that are often mixed-up and usually not talked about. It is common that the man is unaware of his influence until the day he enters an IVF-clinique", says Maja Bodin.
The ReproUnion-funded study is expected to be finalized end of 2021 with recommendations on how to further increase the awareness of fertility and reproduction. It will include interviews with people in Skåne from 15 years and upwards on how they perceive family planning, including conditions and norms that they find play the most important role.
You can read the article from Sydsvenskan here (it requires subscription and is in Swedish)