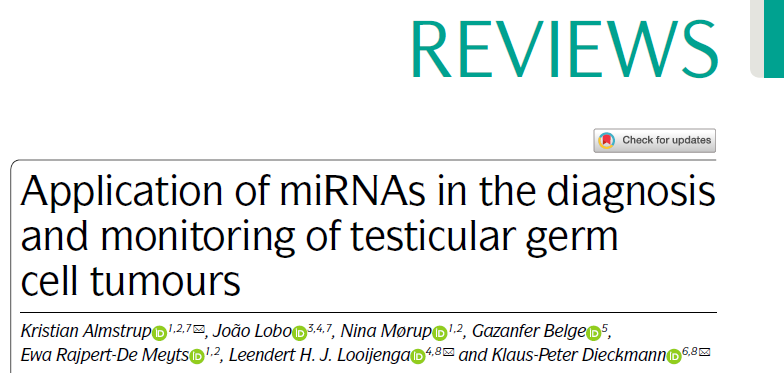 On the 10th of March Nature Reviews Urology published a review by ReproUnion colleagues Nina Mørup and Kristian Almstrup from the Department of Growth and Reproduction at Rigshospitalet . The authors summarise how microRNAs can be potential new markers of testicular cancer.
"Testicular cancer is the most common type of malignancy encountered in young men and shares several risk factors with male infertility. As such, infertile men are at higher risk of developing testicular cancer. On the other hand, testicular cancer is considered a possible cause of infertility," says Nina Mørup, a ReproUnion-funded PhD student, studying genetic and epigenetic variants in infertility and testicular cancer, which she explains in the video below.
Denmark has one of the highest incidences of testicular cancer worldwide with approximately 300 new cases each year. Diagnosis and follow-up of testicular germ cell cancers rely on scans and measurement of serum tumour markers AFP, β.HCG and LDH. However, these markers are only elevated in approximately 60% of patients at primary diagnosis. Therefore, new and better testicular tumour markers are needed.
During the last decade, microRNAs, small specific pieces of RNA, have been studied intensively since microRNA-371a-373 and -367 have been found to be expressed specifically in testicular tumours, and can be detected in the blood of patients with testicular cancer.
The recent review published in Nature Reviews Urology concludes that microRNAs perform better than traditional serum markers in all diagnostic aspects, especially at primary diagnosis and at detecting relapse.
"International standardization is needed before the new microRNA-based test can finally be implemented into clinical practice," concludes Dr Kristian Almstrup, who is part of ReproUnions Challenge 1.
For further information about the review and any questions, please contact Senior Scientist Kristian.almstrup@regionh.dk (pictured below)